JOIN THE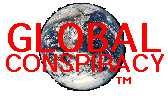 TERMINATOR 3 IN THE NEWS (PART 1)
TERMINATOR STARS FINDING OUT ABOUT SCRIPT
The Terminator stars are finding out about this script. The televison show Access Hollywood, asked Linda Hamilton if there's going to be a Terminator 3. Her response is in a Quicktime movie downloaded from the LINDA HAMILTON ONLINE site.

There is also another way of verifying that Linda knows about this script and it involves a process called Reverse Speech.
REVERSE SPEECH
Reverse speech is a process of playing audio clips backwards to learn the truth of what is being said forwards. Repeatedly demonstrated by

DAVID JOHN OATES
on


ART BELL's Coast to Coast AM and Dreamland
This process shows the subconscious thoughts of a person while they're speaking.
When reverse speech is applied to the audio track of Linda's interview with Access Hollywood, the truth is discovered about the status of T3 and this script.
LINDA FORWARD


"There's a bit of a talk about it right now."

LINDA REVERSE


"Fine, everythings fine. But it was all right."