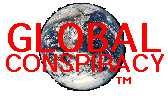 WEIRDO CONSPIRACIES

The following sites are just too weird to fall under any category.
BERT IS EVIL! -- See the evil conspiracy revolving around the geeky Sesame Street character. Is Bert the Antichrist?
THE HOLLOW EARTH SITE -- A web site where people believe there is a hollow earth with people living on the inner surface of the Earth's crust with an inner sun heating the surface. Dyson sphere anyone?