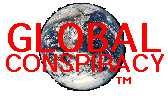 URL CONSPIRACIES
LYCOS -- a site that claims to cover 92% of URL's on the Net. Why 92% is there a conspiracy to list all sites on the net?
LYCOS SEARCH
THE POSTMASTER -- A site to post your URL all over the Internet. Perhaps a plot and conspiracy to overexpose your site?

YAHOO -- Another site with a weird name. Is it really a conspiracy to have fun listing your super-secret URL's? Search Yahoo Below.