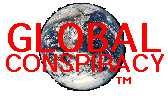 POLITICAL CONSPIRACIES
THE ANARCY PAGE - A page for anarchists. Fly the black flag of anarchy to show your support.
ARM THE SPIRIT -- a Canadian Marxist Organization based in Toronto.
COMMIE KOOKS AT COMMUNIST PARTY U.S.A. (Yes the commies still exist, waving their hammer and sicle.)
"I can no longer sit back and allow, communist infiltration, communist indoctrination, communist subersion and the international communist conspiracy to sap and impurify all of our precious bodily fluids"
General Jack D. Ripper in Dr. Strangelove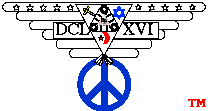 ICEWP

-- International Centrist Earth Worker's Party a conspiracy to bring Peace and Saftey, Law and Order, Humanity and Equality to the Earth according to those who hate peace. See MABUS'S MIDDLE EAST PEACE PLAN to bring peace to the Middle East. MABUS, ICEWP, MABUS'S MIDDLE EAST PEACE PLAN, Peace and Saftey, Law and Order, Humanity and Equality and ICEWP logo are Trade and Service Marks of the International Centrist Earth Worker's Party.
NATIONAL VANGUARD - The web site of Dr. William Pierce, the man who wrote the Turner Diaries. The book is believed to have inspired Timothy McVeigh to blow up the OKC building according to the government.
PROPAGANDA ANALYSIS -- Go here to study the techniques of propaganda. I'm sure Joseph Gobbels would frequent this site.
Speaking of Goebbels. If you're a National Socialist, go to STORMFRONT -(allegedly Mark Furhman and Marge Schotts favorite web site. "Two right arms up" by Furhman and Schott and 4 1/2 Swastikas says Marge Schott.) For those of you who wear brownshirts.
UNABOMBER POLITICAL ACTION COMMITIE - Join the Effort!!! UNABOMBER FOR PRESIDENT IN 96!
UNABOMBER'S MANIFESTO - read the Unabombers view of the world
UNAMERICAN ACTIVITIES -- Do you hate America? Do you burn the flag? Go here to your own neighborhood.
VLADIMIR ZHIRINOVSKY BIOGRAPHY - the life of the world's favorite GeoPolitical Joker.
ZHIWRITERS PAGE - up to date articles on "Mad Vlad" Zhirinovsky.