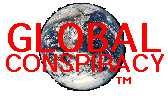 NUCLEAR CONSPIRACIES
CHAIN REACTION -- The official web-site of the new Keanu Reeves movie about a guy finding a cheap source of energy through cold fusion and a high level government plot to kill him.

HIGH ENERGY WEAPONS ARCHIVE - all the info you need on nuclear weapons from the atomic bomb to the hydrogen bomb.
TODD'S ATOMIC HOMEPAGE -- a site with plenty of nuclear related materials and links. I wonder how many terrorists visit this page?


VANDENBERG AIR FORCE BASE -- The airforce base in California that tests and stores Minuteman and MX(Peacekeeper) missiles. Are they hiding nukes out there? William Pierce (a.k.a Andrew Macdonald), the guy who authored The Turner Diaries, thinks so.
FEATURED MUSIC

FINAL COUNTDOWN - EUROPE