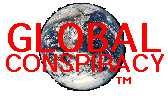 INFORMATION AND COMPUTER CONSPIRACIES
2600 -- The online cybermag for Computer Hackers.
CAPTIAN CRUNCH'S HOMEPAGE -- the homepage of the world's most famous Phreaker and hacker.
CONSPIRACY TO ERECT AN ELECTRONIC IRON CURTIAN -- the sieg heilers at Stormfront have their own conspiracy theory about internet censorship. Paranoid Propaganda of Nutty Nazis?
HACKED CIA PAGE -- See how hackers screwed up the homepage of the CIA.


HACKED DEPARTMENT OF JUSTICE PAGE -- these mirror sites contain all the pages showing how the U.S. Department of Justice home page looked after it was hacked. If that site's slow, here's an Alternate Site. Mirror the site and pass this classic to your friends.
HOSTILE JAVA APPLETS -- Hostile Java Applets written by D.L.P. For Educational purposes only.
JAVASCRIPT TUTORIAL - A tutorial for Javascript. Enhance your pages with neat stuff.
JAVASCRIPT Applet for current time and date.
LINKS FOR HACKERS for those of you who like to hack computers.
MIND UPLOADING PAGE - A page where you can find out how your mind can be uploaded into a computer.
MICROSOFT AND THE BAVARIAN ILLUMINATI -- an intriging report on the connections between Bill Gates, the Illuminati and Aleister Crowley.
TERRIBLE TECHNOLOGY -- Check out the latest technology to be used for horrific totalitarian purposes according to the authors of the page.
FEATURED MUSIC

MISSION IMPOSSIBLE THEME