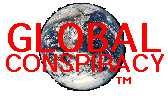 FRINGE CONSPIRACIES
-- Host of the Coast to Coast and Dreamland shows. Topics include off the wall subjects like Roswell Crash parts, AREA-51, Bigfoot, UFO's, H.A.A.R.P., Remote Viewing, New World Order, Government snoops, etc.
Download the REAL AUDIO PLAYER to listen to files from the show.
LISTEN TO ART LIVE!

COAST TO COAST AM - MONDAY - FRIDAY
1AM - 6AM EASTERN
12AM - 5AM CENTRAL
11PM - 4AM MOUNTAIN
10PM - 3 AM PACIFIC - ART'S HOME TIME
DREAMLAND - SUNDAYS
10PM - 1AM EASTERN
9PM - 12AM CENTRAL
8PM - 11PM MOUNTAIN
7PM - 10 PM PACIFIC

CALLERS OF THE ART BELL SHOW
Devils Mouthpiece Caller #1 - a far-right nut accusing Art of working for Satan and being the Antichrist. From April 20th, 1996.
Devil's Mouthpiece Caller #2 - the far-right nut accuses Art of giving radio production secrets to the Communist Soviet Union. What Soviet Union? From August 29th, 1996.
Devil's Mouthpiece Caller #3 - this time the Devil's mouthpiece caller screams about homosexuals and how Art is destroying America. From August 20th, 1996.
Devil's Mouthpiece Caller #4 The Devil's Mouthpiece caller commets on Pamela, the woman who has a reptilian Alien for a boyfriend. From December 4th, 1996.
Charlie Liberal and Guns -- a far-left nut who says all people who have guns are nuts. I guess that makes the police officers who protect him and his community to be nuts as well.
COWARD CALLER -- A caller who says he 100% trusts the government. He laughs himself out of believeability.
SONGS FROM THE SHOW
CBC Network introduction to the ART BELL show.
COAST TO COAST OPENING THEME -- includes Art's intro.
DREAMLAND OPENING THEME -- includes Art's intro.
PARODY SONGS FROM THE SHOW
ALIEN PARODY SONG - by the Dana Ray Band. Includes references to Dreamland and Art Bell.
CHUPACABRA -- A parody of the "MACARENA". The Chupacabra, pronounced CHOO-PAH-CAB-RA, is a creature allegedly infesting Mexico and Central America and sucking the blood out of animals. Also known as the "Mexican Goatsucker".
This site is Fringe Radio at it's best.
---
BIG BOOK OF MISCHEIF -- the title says it all. For Study Only.

DREAM CHAT -- A WWW bulletin board with postings of people with all kinds of weird dreams.

ELECTRONIC FRONTIER OUTLAW FRINGE -- A page with plenty of fringe links. If you want to get away from the real world and into the surreal world of the lunatic fringe, go here.

THE JOLLY ROGER COOKBOOK -- a collection of texts BB doesn't want you to see. For Study Only.

KOOKS MUSEUM -- conspiracy theories of every kook and weirdo out there in the world collected in one kooky museum.


THE LAURA LEE SHOW -- a weekly radio show by Laura Lee that covers strange, New Age and unconventional subjects. Laura also writes a column for ATLANTIS RISING MAGAZINE. Beautiful, isn't she?
RODS -- a new phenomenon where strange interdimensional beings or creatures are traveling through our 4 dimensional space-time continuum.
STRANGE UNIVERSE -- A web page of the weird late night televison show about UFO's, cults, deformed people and other oddities.
THE TERRORISTS HANDBOOK -- a book with a bang. Link provided for Intellectual study only.
FEATURED MUSIC

COAST TO COAST THEME - MIDNIGHT EXPRESS