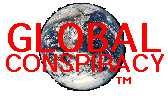 ENTRAPMENT CONSPIRACIES

FREE SPEECH and THINKING CONSPIRACIES
ACLU -- the American Civil Liberties Union, the protectors of Free Speech.
COMMUNICATIONS DECENCY ACT OF 1996 -- An extension of the Commuications Act of 1934. Who wrote the original? Adolf Hitler? Joseph Stalin? Benito Mussolini?
CENTER FOR DEMOCRACY AND TECHNOLOGY -- a non-profit public interest organization based in Washington, DC. The Center's mission is to develop and advocate public policies that advance constitutional civil liberties and democratic values in new computer and communications technologies.
FREE SPEECH WITH LENNY BRUCE -- A man who would tell it like it is.
A LENNY BRUCE BIO -- A section of Lenny Bruce's life.
LENNY BRUCE SOUND FILES -- aiff sound files of the comedic genius Lenny Bruce. Are the files a conspiracy to stretch Internet freedoms to the limits?
PROTEST THE CDA WITH LENNY BRUCE -- Go here to get GIF's of Lenny Bruce to protest the Communications Decency Act
EFF -- Electronic Frontier Foundation. The organization that started the blue ribbon campaign across the Net.
TIMOTHY LEARY -- the 60's drug guru who said he was going to kill himself on the Net. UPDATE -- Mr. Leary left us and went into the great beyond on May 30th, 1996. Cause? Cancer.