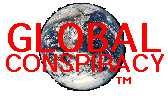 ASASSINATION CONSPIRACIES

DID THE FREEMASONS KILL KENNEDY? -- read the startling information on who killed Kennedy and how European Secret socities were involved. From "Behold a Pale Horse" by Milton William Cooper.
JFK ASSASINATION HOMEPAGE -- the site where you can look up all the information on the JFK assasination. Who do you think did it? Was Oswald a Patsy or did he work for some super secret organization? What was Jack Ruby's motivation in shooting Oswald, to protect the Illuminati?
JFK RESOURCES ONLINE -- A page with plenty of pictures and links of the Assassination of JFK, Lee Harvey Oswald and Jack Ruby shooting Oswald.


"I'm just a Patsy!" - Lee Harvey Oswald
JACK RUBY -- Was Jack Ruby just a small time mobster or was he some sort of intelligence agent?
ORION AND DEALEY PLAZA -- A website that shows a relationship between the constellation of Orion and Dealey Plaza. A site made by a very paranoid person.
OSWALDS HOUSE FOR SALE -- the house formerly occupied by Lee Harvey Oswald is for sale. If you want to buy a part of JFK conspiracy memorbelia, click on this link.
SECRETS OF A HOMICIDE: THE JFK ASSASSINATION -- a web page with a videotape of a 3-D animation of Dealey Plaza. A must see.
THE KENNEDY ASSASSINATION - A page by John McAdams. His page actually believes in the Warren Commission and the "magic bullet theory".
THE CIA JFK PAGE -- Another page of information on the JFK assassination, including a timeline on the assassination.
THE SIXTH FLOOR MUSEUM -- the homepage of the Sixth floor of the Texas School Book Depository in Dallas, Texas, where Oswald "allegedly shot" Kennedy in his Motorcade according to the Warren Commission.
FEATURED MUSIC

HOLD YOUR HEAD UP - ARGENT